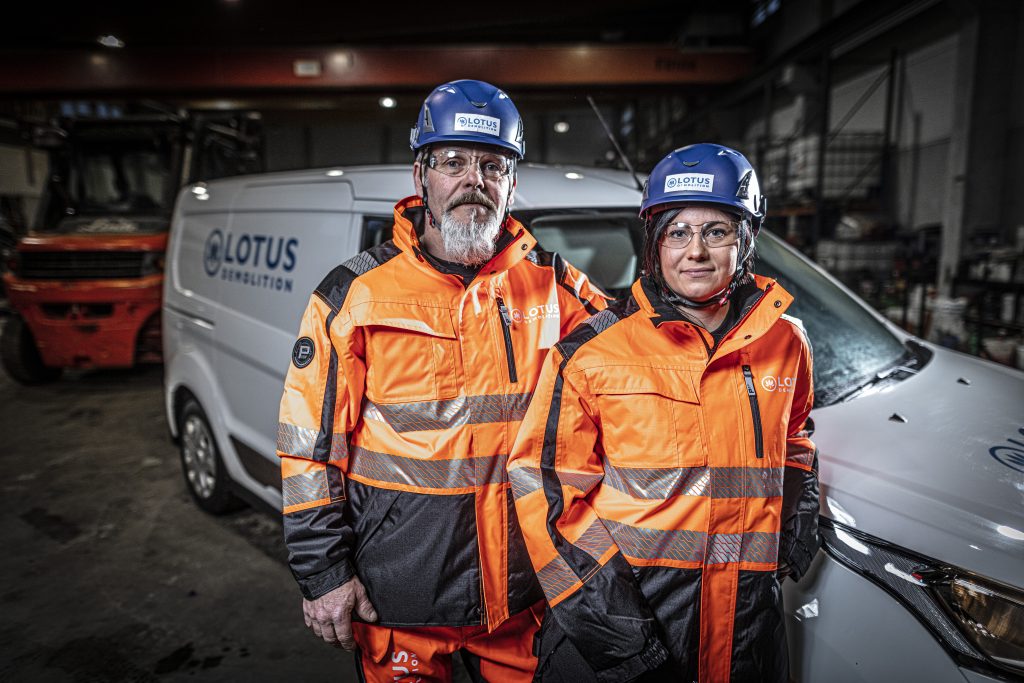 Responsibility
We are known for our honest, transparent operating practices. When a customer enters into cooperation with us, they can rely on the quality of our operations and our ability to carry out projects safely and responsibly. Our operations are efficient, clean and safe and we respect the environment, taking into account the appropriate handling of demolition material and environmental aspects.

We continuously develop our operations in the form of innovations and improved operating practices. As the most sought-after partner and workplace in the field, we see it as our duty to lead the way, also in terms of responsibility.
The responsibility policy of Lotus Demoliton Oy is based on the responsibility documents of its parent company, Lotus Transport & Maskin AB.
Quality, environmental and occupational safety policy
The following serve as the framework of our quality, environmental and occupational safety work:
requirements set out in laws and regulations and by the authorities
needs and expectations of customers
our internal requirements
operative risk assessments
ethical principles.
Below are the principles and objectives that are available to everyone.
We strive for premium quality in all our operations, and this principle pervades all our business, because uncompromised quality is a prerequisite for customer satisfaction. We develop our operations constantly to meet the needs of our customers. We measure customer satisfaction on a continuous basis as part of our development work.
We want our operations to be synonymous with high quality, both for our customers and employees. For us, quality means openness and the willingness to develop and improve our operations further.
We cannot meet our quality requirements without the cooperation and commitment of all our employees. The following are the keys to our success:
selecting the right methods through good advance planning – focusing on quality at all stages
seamless communication
skilled employees and supervisors
modern machinery and equipment
continuous development.
We want to satisfy the needs of our customers and our operating environment. In accordance with the principles of continuous improvement, it is our goal to constantly develop the quality of our environmental protection.
Management and employee commitment and competence are the prerequisites for the achievement of our goal. We provide training to our employees on how to take environmental aspects into account in their daily work. We regard the environmental criteria and environmental protection regulations set out in acts, decrees and regulations as our minimum requirements.
We always strive to reuse or recycle the demolished material as far as possible. Effective waste management helps keep the work area clean and orderly, and this requirement is included in all our demolition work.
We take environmental aspects into account in our work by:
developing the reuse and recycling of building components and materials (demolition with sorting)
measuring the climate impacts of reuse for the demolition site and the waste generated there (the carbon footprint of the demolition site).
Occupational safety policy
We are determined to build a work environment where our employees can develop according to their individual abilities and goals. We want to encourage our employees to take their own initiative to change and improve their working conditions, but we also expect everyone to take responsibility for their working methods and productivity. We believe that employees who are committed and have good well-being perform better and are proud of their work.
Individuals who set high expectations for themselves and their operating environment also promote the growth of the company. We believe that a healthy amount of internal competition makes the company stronger and helps it stay up-to-date. We encourage ambition and determination that drive us forward.
We must enable our employees to work professionally and efficiently. For this reason, occupational safety should always be seen as vital for performance.
Preventive occupational safety is our special area of focus, because studies show that preventive measures have a positive effect on occupational safety. Preventive occupational safety is included in all our occupational safety reports.
It is important that everyone who participates in the work understands the operating practices and the risks. We record and report on all incidents in order to prevent accidents at the workplace.
Information sharing, communication and the regular inspection of work areas, machinery and safety equipment serve as the framework for preventing occupational accidents and injuries.
We are a safe and healthy workplace where issues related to well-being and the work environment are identified at an early stage. This also minimises sickness absences.
We develop our health and safety thinking continuously. Our vision is to be a modern company, and this work is never finished.
The focus of our occupational safety is on preventive actions, i.e. risks and hazards are to be eliminated in advance where possible.
Lotus Demoliton Oy's operations are certified in accordance with the ISO 9001:2015 quality, ISO 14001:2015 environmental, and OHSAS 18001:2007 safety management system standards.
Our company also possesses RALA qualifications in Finland and is included in the Reliable Partner programme.