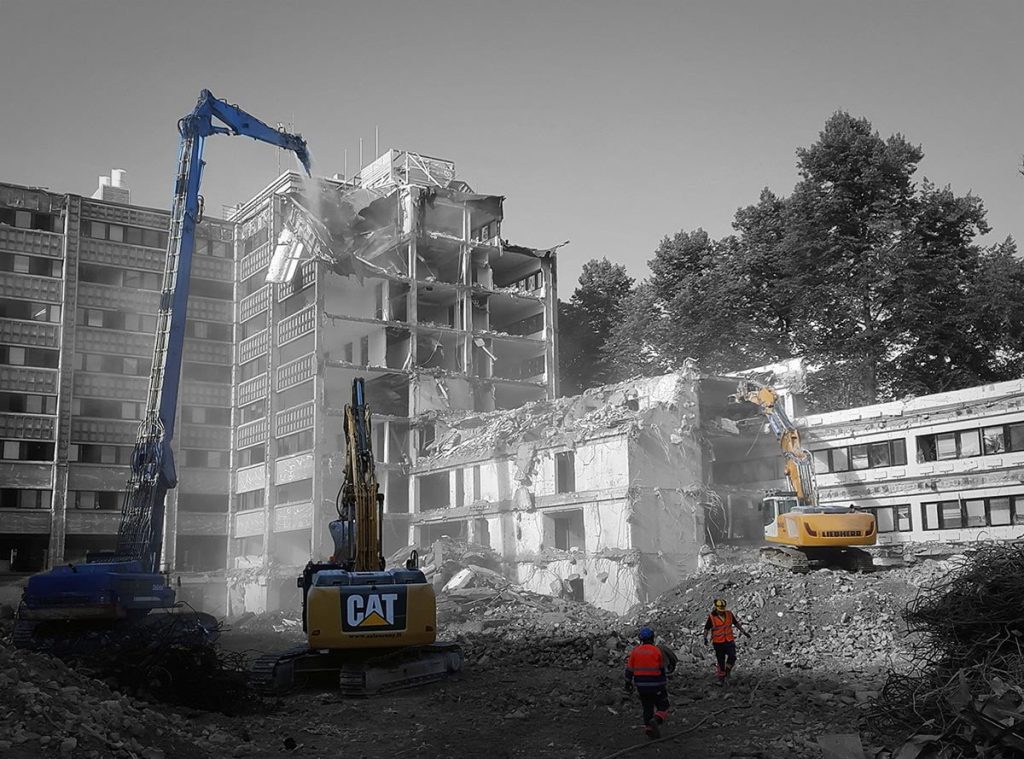 Building and property demolition
We are a special expert and pioneer in building and property demolition. We offer our customers comprehensive building and property demolition service that comprises the entire demolition process of buildings of all sizes, including difficult and demanding sites. Our service always includes the planning, management, documentation and implementation of the demolition project.

We are the most experienced demolition company in the Nordics and therefore we know that the process requires proactive planning, as well as the ability to change plans quickly if necessary. We possess solid project management expertise. We connect seamlessly to the customer's processes and work in an efficient, clean and safe manner, also paying attention to environmental issues and the processing of demolition material. On top of all this, cooperation with us is easy, straightforward and relaxed.
Versatile and high quality demolition equipment
As the market leader in our industry, we naturally have a wide range of high-quality demolition equipment – we have the right tools for any project. Our strong expertise and excellent equipment, complemented with the most competent and committed professional employees, is a combination that makes us a trusted partner for our customers.
We take particular pride in our project management. In our project planning and implementation, we pay attention to the smallest details to make sure that we can flexibly respond to any unexpected events. This was the starting point of developing a demolition work procedure for the future, offering our customers a real-time view of the demolition project and its materials, and also the demolition carbon footprint calculation.