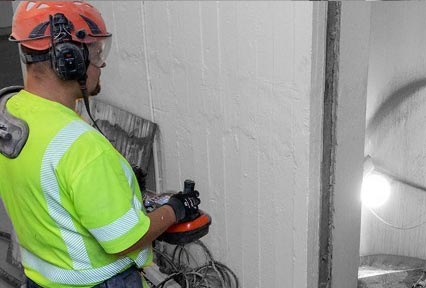 Lift demolition and removal
Lotus lift demolition and removal service covers the demolition of lift systems and escalators, and the lift removal required in lift replacement or floor raising projects. The service is available throughout Finland. Our professional specialists carry out the removal of lifts and escalators of all types, ages and sizes in a non-intrusive, efficient and precise manner from start to finish.
Lotus approaches lift removal as a comprehensive customer service package that starts with an asbestos and hazardous material survey before the lift removal and concludes with the total removal of the lift. If any hazardous materials are detected in the survey, we handle their removal as well. We also take care of all the temporary fire compartmentalisation, dust screening and shaft washing work required during the removal.
We can perform lift removal projects as separate contracts or as a part of a heavy demolition or a renovation demolition contract. In lift motor replacement projects, Lotus Demolition's specialists carry out the removal of the old lift motor.
We can also alter the use of lifts in various sites. Such alterations can be required due to raised floors, lift door alterations and when installing a new lift in a block of apartments without a lift, for example. Every lift removal and alteration project is carefully planned. Our customer can always rest assured that Lotus professionals will handle the project in a competent manner.